by Bruce Campbell Adamson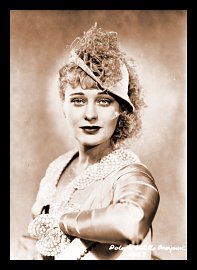 Dolores Costello
Actress
Birth September 17, 1905 - Pittsburgh, PA
Death March 1, 1979 - California

When Maurice Costello was known as "the handsomest man on the screen" in what the historians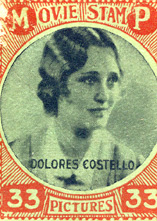 of the films are pleased to call "the old Biograph days", his small daughter Dolores, then two or thereabouts, played occasional bits in pictures. But she forsook the opportunity of growing up in the films thus provided, and began her official career as a model.
Dolores Costello was a delicate blonde beauty who projected patrician poise as a lead actress. Dolores and her sister (actress Helene Costello) began appearing as children in Vitagraph films that starred their father. As a teenager Costello became a model for top New York illustrators, then began playing bit roles at age 17 in East Coast productions. After modeling for James Montgomery Flagg, Dolores was discovered by the Warner Brothers and has never left them. While Helene, her sister wandered about the various Hollywood lots. She and her sister formed a suc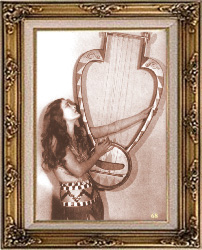 cessful dance duet on the New York stage in the George White Scandals of 1924, leading to the two of them being signed to film contracts by Warner Brothers. Her career moved slowly at first, but took off as a sudden star after her appearance opposite John Barrymore in The Sea Beast (1926), a romanticized adaptation of Moby Dick; she and Barrymore were married in 1928.
Photo on left is Dolores Costello (1928) appearing in Noah's Ark as "Miriam." She married the pagan god, "Jaghut." Later she is compelled to join in the grest festival which is to end in her death, as a sacrifice to him.
It was Dolores Costello, by the way, who will go down in the glorious annals of film history as the first heroine of the talking pictures, in those pre-historic days before Noah's Ark, when the talking consisted of five minutes of concentrated loud-speaking before the final close-up. Note: John Wayne was an extra in Noah's Ark. Dolores went on to be one of the leading stars of the late '20s and early '30s, making the transition into the talkies but retiring from films in 1932 to have two children (one of whom was future actor John Drew Barrymore.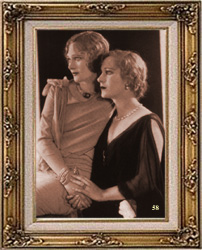 After she and Barrymore, Sr., split up, she returned to the screen in mature roles, notably as Freddie Bartholomew's mother in Little Lord Fauntelroy (1936) and as Isabel Amberson, Tim Holt's mother and Joseph Cotten's love, in Orson Welles' The Magnificent Ambersons(1942). She retired from the screen permanently in 1943. Photo to the Right is Dolores and her sister Helene Costello.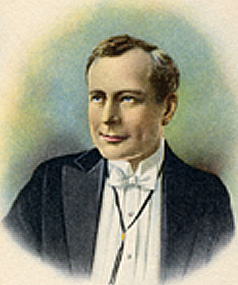 Photo to Left is their dad silent film star Maurice Costello.
Before there were The Stooges in 1933 Hal Adamson wrote his first songs for the film industry in which Fred Astaire made his film debute in Dancing Lady. The Stooges also acted in this film. Yet they were not known as the three stooges. And in fact in the Dancing Lady there were Four Stooges including Ted Healy. Altogether there were Six Stooges.
Thanks to Dolores' father it was Maurice Costello who introduced Moe Howard into acting. Determined to get into movies, Moe (then going by his middle name, Harry) went to the Brooklyn-based American Vitagraph studios in May, 1909, and volunteered to run errands for the stars and crews without charging for the service. This impressed Maurice Costello, who brought Moe inside and introduced him to the company. Soon, he was appearing in dramas with Costello and comedies with John Bunny and Flora Finch. At first, he didn't tell his family about his movie work. But, when they thought he was losing his mind because he was acting like his characters at home, he told them about his extracurricular activities. Most of his films from this period were lost when the Vitagraph film library burned on 2 July 1910.
CLICK HERE FOR Helene Costello Biography and Films.
CLICK HERE FOR Maurice Costello Biography and Films.
CLICK HERE FOR COSTELLO Photo Gallery.
CLICK HERE FOR SECOND COSTELLO Photo Gallery.
CLICK HERE FOR THIRD DOLORES COSTELLO Photo Gallery.
CLICK HERE FOR FOURTH DOLORES COSTELLO Photo Gallery.
CLICK HERE FOR FIFTH DOLORES COSTELLO Movie Photo Gallery.
CLICK HERE FOR SIXTH DOLORES COSTELLO Movie Photo Gallery.
CLICK HERE FOR SEVENTH DOLORES COSTELLO Movie Photo Gallery.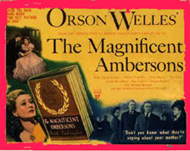 FILMS OF DOLORES COSTELLO
1943 This Is the Army Actor: Mrs. Davidson
1942 The Magnificent Ambersons Actor: Isabel Amberson Minafer
1939 King of the Turf Actor: Mrs. Barnes
1939 Whispering Enemies Actor: Laura Crandall
1939 Outside These Walls Actor: Margaret Bronson
1938 Breaking the Ice Actor: Martha Martin
1938 Beloved Brat aka A Dangerous Age Actor: Helen Cosgrove
1936 Little Lord Fauntleroy : "Dearest," Mrs. Errol
1936 Yours for the Asking Lucille Sutton
1931 Expensive Women Actor: Constance Newton
1930 Second Choice Actor: Vallery Grove
1929 The Madonna of Avenue A Actor: Maria Morton
1929 The Redeeming Sin Actor: Joan Billaire
1929 Show of Shows Actor: Sister Act #1
1929 The Glad Rag Doll Actor: Annabel Lee
1929 Hearts in Exile Actor: Vera Zvanova
1928 Glorious Betsy Actor: Betsy Patterson
1928 Tenderloin Actor: Rose Shannon
1928 Lights of Paris Actor
1928 Noah's Ark aka Noah's Ark - The Story Of The Deluge Actor /Miriam
1927 College Widow Actor: Jane Witherspoon
1927 When a Man Loves Actor: Manon Lescaut
1927 The Heart of Maryland Actor: Maryland Calvert
1927 Old San Francisco Actor: Dolores Vasquez - A favoite
1927 Million Bid Actor: Dorothy Gordon
1926 The Little Irish Girl Actor: Dot Walker
1926 Bride of the Storm Actor: Faith Fitzhugh
1926 The Third Degree Actor: Annie Daly
1926 Mannequin Actor: Joan Herrick
1926 The Sea Beast Actor: Esther Harper
1925 Greater Than a Crown Actor /Princess of Lividia
1925 Bobbed Hair Actor: Bit Part
1923 Lawful Larceny Actor: Nora, the Maid
1923 Glimpses of the Moon Actor: Bit Part
1912 The Troublesome Step-Daughters Actor
1911 The Geranium Actor
1911 The Child Crusoes Actor