Autographed Check and Cabinet Photograph of Famous Stage Actress
Fanny Davenport - Check signed 1893
Fanny Lily Gipsy Davenport (1850-1898) was an American stage actress. The daugh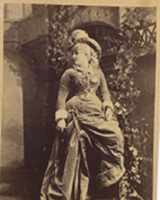 ter of Edward Loomis Davenport and Fanny Vining, she was born in London, England, but was brought to America when a child and educated in the Boston public schools. When seven years old she appeared at the Howard Athenæum in Boston, as the child of Metamora, but her real début occ
urred in 1862. Her family were all famous actors/actresses including sister Blanche.
In February, 1862, she appeared in New York at Niblo's Garden at the age of twelve as the King of Spain in Faint Heart Never Won Fair Lady. at Niblo's Garden. Her acting in that play attracted the attention of Augustin Daly, the manager of the Fifth Avenue Theater, in 24th Street, who offered her a six-weeks engagement with her father in London Assurance. She afterward appeared at the same theater as Violetta, in She Would and Should Not; Miss Pickland, in Goodnatured Man; Polly Eccles, in Caste; Mrs. Madison Noble in the Surf; Alice Hawthorn in Old Heads and Young Hearts; Effie Remington in Saratoga; the Baroness in Article 47; and Leo Ten Eyck in Divorce.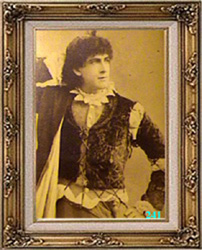 In 1872 Fanny Davenport starred in As You Like It with Maurice Barrymore as Orlando.
The theater was then burned, and after the newe Fifth Avenue had been completed, in 28th Street, she scored a great success as Mabel Renfrew in Pique; a play written for her by Mr. Daly. She starred throughout the country with this play and in her company was the actor Edwin F. Price, to whom she was married in 1880. In the fall of 1882 she went to Paris, and there purchased the right to produce Sardou's great emotional drama of Fedora in this country.
Acted with especial success in Sardous Fedora (1883), Cleopatra (1890), and similar plays. Her last appearance was in Chicago at the Grand Opera House on the 25th of March 1898, shortly before her death. She was the wife of Mr. Willet Melbourne MacDowell, her second husband, whom she married in 1889.
She died in Duxbury, Mass. She was the aunt of actress Dorothy Davenport.
HARRY DAVENPORT
Biography for
Harry Davenport (I)
Date of Birth

19 January 1866, New York, New York, USA
Date of Death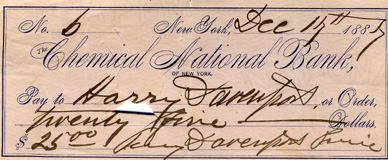 9 August 1949, Los Angeles, California, USA (heart attack)
Nickname
Pop
Spouse
Phyllis Rankin (January 1896 - 17 November 1934) (her death) 4 children
Alice Davenport (25 January 1893 - 1896) (divorced) 1 child
Son of Edward Loomis (E.L.) Davenport & Fanny Elizabeth Vining. Brother of Blanche, Flo, May, Fannie, Lillie & Edgar. Father of Dorothy Davenport and actress Kate Davenport. Father-in-law of Wallace Reid. Grandfather of Wallace Reid Jr.. Grandfather of actor/producer/director Dirk Wayne Summers. Great-great-grandfather of Thomas Grant and Tyler Grant.
Entered films in 1912.
Father-in-law of Wallace Reid.
Grandfather of Wallace Reid Jr..
Father of actress Kate Davenport.
Grandfather of actor/producer/director Dirk Wayne Summers.
Harry Davenport was a co-founder along with Eddie Foy of what would later become known as Actors Equity Association. The original organization, which Mr. Davenport spearheaded, was known as The White Rats. It was this group of actors who finally, after a nine month effort, united in their opposition to the treatment of actors by the likes of the Shubert brothers, David Belasco and others, and refused to appear on stage by striking. Their actions resulted in the closing of all of the Broadway theaters, with the exception of George M. Cohan and his company. In answer to the actors strike, the Broadway producers were forced to give in to such demands as plumbing in the dressing rooms, a six-day work week, and other such necessities that were considered outrageous by the theatrical owners and producers. Were it not for the hard work of Harry Davenport and Eddie Foy Sr., the plight of American actors and the atrocious conditions in which they were forced to work might well have continued for decades. Harry Davenport and Eddie Foy Sr. were and remain the champions of the rights of actors, and other stage craft professionals.
Great great grandfather of Thomas Grant and Tyler Grant.
EDWARD DAVENPORT
The American stage many have seen two or three greater and more popular actors than E.L. Davennport, but, unless we except Edwin Booth, it has been no more finished and refined in style. Mr. Davenport was born in Massachusetts in 1816. His first apppearance was in Providence in 1836, when he supported the elder Booth in A New Way to Pay Old Debts. the part of Sir Giles Overreach, then taken by Booth, being in later years one of Davenport's favorite parts. He rapidly gained a reputable position, and ably supported Anna Cora Mowatt, Macready and Forrest. He spent two years in England with Macready, and there married Miss Vining, an actress of considerable power. At the Haymarket his Willian in Black Eyed Susan was warmly applauded. After his return to America he played many star engagements. In 1859 he managed the Howard Athenaeum in boston; In 1869 the Chestnut Street Theater, of Philadelphia. Among his greatest parts were Brutus, Othello, Sir Giles Overreeach, Bill Sykes in Oliver Twist, and Dan'l Druce. In the play at Canton, Penn. Sept. 1, 1877, "Versatile to a remarkable degree," says a well-known critic, "refined, polished and classical, yet capable of most powerful acting, while he may have been excelled in single characters, he was the peer of any when tragedy and comedy are both considered." Mr. Davenport was the father of Fanny and Blanche Davenport. who was a vocalist of talent.
If you have any questions please email me at bca@got.net